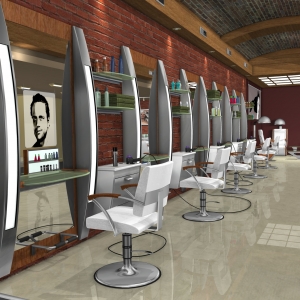 Hair Salon Industry Is Perfect Fit For On-The-Go Consumers Using Smartphones and Tablets to Find Fast, Convenient, Recommended Hair Care
BIRMINGHAM, MI, November 11, 2013 – Now more than ever, consumers are using the power of the web to find a hair salon, see what other customers think and have experienced , and also share their own experience with a salon. In a market chock full of hair salons all competing aggressively for business, salon owners need to use the marketing power of the smartphones and tablets in every purse, pocket or computer bag to put their best face forward and be as competitive as possible on the digital marketing front.
Visibility is Everything: Be Seen!
Today's consumers, including salon customers, have become skilled at searching for the exact products and services they desire, in the exact location they desire, using technology resources literally at their fingertips. When it comes to searching for services like hair salons, using web or mobile to find them has become virtually a reflex; searching by phone or tablet has become a "no-brainer". Researching hair salons on web or mobile is a common practice for those seeking a fresh haircut or quick trim nearby with a chair available. For the terms "hair salons" and "hair salons near me", there are approximately 101,000 searches performed on Google per month. With that in mind, hair salon owners can now exploit that consumer behavior and become highly visible to more new customers quickly and more often.
With the help of a knowledgeable digital marketing partner, salon owners are able to take ownership of, verify and manage their presence on local business listings. A digital marketing partner can quickly and affordably assist salons in getting the most accurate and highly visible information about their business into the online local business listings and databases including location, maps, directions, reviews, promotions and more. Consistent, optimized business profile information will greatly help boost ranking results across web and mobile platforms. Melih Oztalay, CEO of SmartFinds Marketing, says, "Business owners that only focus on listing their name, address, phone number and website and then add occasional updates miss out on the new business that grows from an automated ongoing online marketing process. It's the steady churn of new information that boosts search ratings and increases visibility."
Find Success A Cut Above the Rest: Be Competitive
Once a hair salon store owner creates an identity in their local business listings, they are then positioned to take full advantage of the freely available branding and marketing opportunities the listings have to offer. The local listing profiles allow salons to upload a store logo and photos, offer special coupons and promotions, and reward customers with loyalty programs that can often be integrated directly into the listings. Customers are more likely to look at a business listing that is colorful, has an eye-catching logo, store photos, and enticing offers rather than a dull, a bland, nondescript listing with no flair or consumer interest.
These important details increase the chance of being seen and building new foot traffic. Mr. Oztalay points out, "If salons pursue a strategic marketing process that is specifically based on the local geography of each salon, then our steady stream of marketing material updates and managed analytics will help ensure the success that salon's local store marketing program."
Look who's talking: Managing Ratings & Reviews
A popular misconception that hair salon owners often have is that word-of-mouth recommendation is their best form of marketing. Oztalay says, "That's always been true. But put word-of-mouth recommendations online and you've got world's most effective marketing on steroids. The sky's the limit." Salon owners don't dare overlook the importance of what is being said about them on the web, positive or negative. Unlike direct word-of-mouth, access to information on the web is almost instantaneous and immediately far reaching. With just a few clicks, one bad online review can continue to proliferate and multiply across many search engines for months.
A June 2013 article published by Search Engine Watch showed that, between 2011 and 2013, the number of consumers reading local business reviews increased by 10 percent. This steady increase is something that hair salon owners should take note of. Salon owners should make it a priority to address any bad customer experiences in a constructive manner. They should respond positively, not defensively, and offer a way for the customer to contact them to discuss the matter off line.
Salon owners should also remember to respond to the great reviews, thanking both new and repeat clients for their business. This will demonstrate that customer service is of the utmost importance and will help build a solid reputation online. The June Search Engine Watch article also noted, "What is good news for local businesses is the fact that not many people are just reading the first review for a local business. More than 60 percent read between two and six online reviews before they form an opinion on the business."
According to Mr. Oztalay, "Our research on national hair salons during summer 2013 reveals that customer ratings and reviews are not being productively managed by the salons. The results can be dire. In one example the customer lives on an Army base near the hair salon, had a bad experience, spread the word online, and it is unlikely that others at the base would visit this location." By enlisting the help of an experienced onlinemarketer, hair salon owners can learn to manage their ratings and reviews efficiently and effectively. In an industry centered on image, hair salon owners will recognize this as a powerful and essential investment in their business.
How SmartFinds Can Help
SmartFinds partners with hair salon store owners to find marketing strategies that bring more customers through their salon doors. The SmartFinds approach is unique in that it focuses on strategic marketing processes and not just technology tasks alone.
SmartFinds can help local hair salon owners with:
On-going marketing management at the Top 10 websites covering Search Engines, 411 Websites, Mapping/GPS Websites, Social Communities, and business directories, as well as syndication to over 200+ websites.

Managing a salon's landing page marketability

Managing consumer ratings and reviews

Store-level local social media marketing

Analytics, Activity, and Keyword ranking reports for the location's city as well as 3-5 surrounding communities
You can learn about additional, included marketing activities and tasks not listed here by reaching out to SmartFinds directly. Contact SmartFinds today for further information and let us know how we can help your hair salon thrive. Visit https://SmartFindsmarketing.com/marketing-businesses-locally/hair-salon-marketing/.
For credits/source information mentioned in this article visit: https://SmartFindsmarketing.com/marketing-businesses-locally/hair-salon-marketing/
About SmartFinds Marketing

SmartFinds Marketing provides innovative, personalized web marketing strategies and services. We strive to help customers navigate the web marketing and advertising world through education, consultation and result interpretation. As your partner, we research, develop a plan, and manage its execution. Web marketing is an intricate process and we help you interpret and understand the results every step of the way. SmartFinds is headquartered in Birmingham, MI and houses over 25 years of marketing, advertising and internet experience. SmartFinds' broad client experiences with websites, web advertising campaigns, and web marketing strategies include larger corporations like Compuware, Delphi, Flagstar Bank, Guardian Industries, McCann Erickson, Penske Automotive Group, Soave Enterprises, Wendy's, Ziebart and others. To learn more visit www.SmartFindsmarketing.com or call (866) 501-5758.
You can learn more of this web marketing agency in this PDF about SmartFinds Marketing.
CONTACT:
[wpseo_address id="undefined" show_state="1″ show_country="1″ show_phone="1″ show_fax="1″ show_email="1″] [wpseo_map id="undefined" width="400″ height="300″ zoom="-1″]