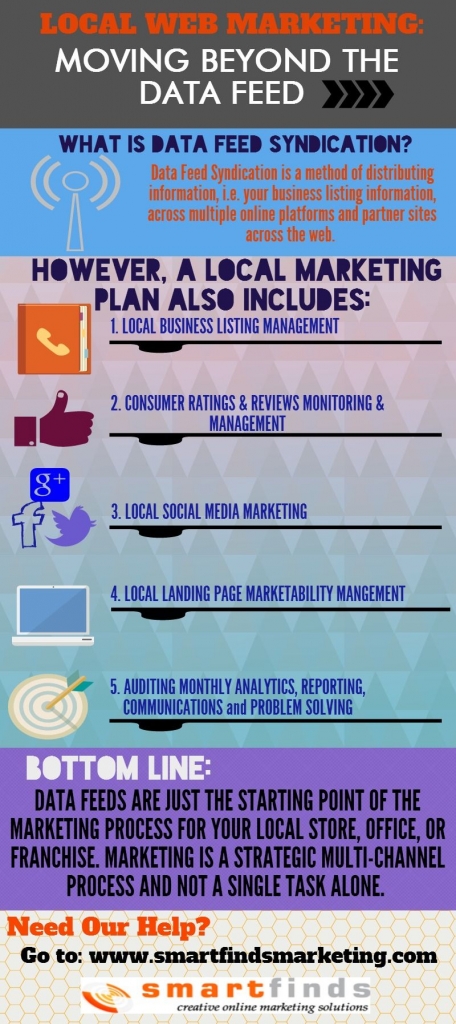 Why do companies have the perception their local marketing for stores ends with submitting a data feed through a syndicator? The reality remains that marketing is a strategic multi-channel process and not a task. For this reason alone, using a syndicator is only the beginning and only about managing information.
This applies to both small local businesses and multi-location national companies; probably more so for national companies because they don't think of themselves as a local business. The national companies like to keep their marketing and advertising at the national level though, in reality, all business is local.
The most compelling reality is the Internet industry, the mobile industry, and consumers are pushing all businesses to focus all their marketing at the store, office, or franchise level.
What Is Included In Local Marketing
While we could discuss a very long list of topics when it comes to local store, office or franchise marketing, let's focus on topics most commonly known.
Local Business Listing Marketing Management
This is not a one-time process and includes pin code verification at multiple websites, updating the listings with marketing materials, changing marketing materials consistently, managing duplicate listings, closed locations and much more.
Local Business Listing Information Marketing & Syndication
This is the process to be completed through data feeds and syndication services.
Consumer Ratings & Reviews Monitoring and Management
Each store, office and franchise has their own individual ratings and reviews from local customers. Passively waiting for negative reviews to show up is probably not in the best interest of the company. Rather, you need to implement a program to get ratings and reviews in your Google listings. This program would include responding to both negative and positive reviews as well.
Local Social Media Marketing
Google+ has become a requirement for businesses to have a business page for each location. In order to make your relationship marketing with local consumers specific to their area, this would then include Facebook, LinkedIn, Twitter, YouTube, Foursquare and the like for each location. Certainly this is not only about passive social media marketing, but engaging in active social media marketing.
Local Landing Page Marketability Management
Your business website plays an important role in the local marketing process to not only include a landing page for each location, but to possibly include a landing page for each city for the communities nearby the local store, office or franchise. Using structured data in the website's coding, these pages can support the overall strategy.
Auditing Monthly Analytics, Reporting, Communications and Problem Solving
This is discussed in greater detail in the next section. Considering you will need time to review measurements per location, analyze the results, identify problem areas, and develop an action plan to improve the results, it would seem this marketing process has much more to do with marketing than with data feeds.
Auditing Local Store Marketing Effectiveness
Part of any strategic marketing process includes auditing to see if what you have executed is working. This is something many syndicators cannot do or do not provide as a service. A couple of basic auditing questions you may want to ask yourself:
Have you checked to see if an individual store is ranked for a keyword + city combination in the city and around the city of your local store?
Have you looked to see if your listings are in the correct category across the various websites your information is being syndicated to? Please don't forget to check Google Map Maker! You may find an interesting surprise here.
Not all websites accept the data feeds the same way from the syndicators and some information is missed or not properly updated.
Auditing includes problem solving to identify where there are issues. The problem solving process does take time, requires labor to research and determine a course of action to correct the problems. This does mean you will have to use labor to take corrective action.
Yext and What Can Happen If You Stop Using the Service
In June 2013 a discussion was stared in a LinkedIn group called, "Google Places SEO, Local Search SEO, Mobile SEO" and the topic is "Is Yext worth it for citations?" As of February 2014 there are over 50 comments in which the comments are primarily focused on what happens once you stop using Yext.
Specifically the recommendations by many in this discussion is they do not recommend using Yext because once you stop using the service a business can lose all the business listings, citations and information syndicated by Yext.
Christian Ward a EVP at Yext responded to the accusations and the one comment in his three paragraph response which is compelling "…after a client no longer uses the Yext service is the Publisher then releases the listing to their normal compilation process." The "publisher" in this case are the websites carrying your business information that had been used to distribute your business data feeds.
While Yext was targeted in this LinkedIn discussion, the same concept can apply to any syndication service a business may use. Theoretically this type of data feed syndication service would fall into the expense of advertising with short-term gratification vs. investment of marketing with longer-term success.
Pin Code Verified Listings Are Not Managed By Syndicators
A service not provided by data feed syndication companies, is pin code verified listings. A business needs to verify their listings at various websites by securing a pin code from those websites. This includes Google, Bing, Yelp, and others. Pin code verified listings reduce the probability of your listing(s) being hijacked.
If you believe a Bulk Uploaded list of locations can reduce hijackings, you may want to reconsider this situation based on recent events in January 2014 of thousands of hotel listings being hijacked on Google. The story "Thousands Of Hotel Listings Were Hijacked In Google+ Local" was released by Search Engine Land on January 14, 2014 and started quite the flurry of discussions in the Internet industry about local business listing security.
If we consider in March 2011 Search Engine Watched released the story "Cooper Tire Hijacked 2300 Listings at Yahoo Local, Yellow Pages", the issue of security has not changed much and further validates businesses need to take control of this matter. You cannot rely or wait for these websites to resolve the security issues as it would not take long for hackers in known countries around the world to take advantage of this situation.
What We Have Learned
Data feed syndication is not the end point of marketing your local store, office, or franchise. It is one part of the total marketing program and happens to be the start of the process. Executing the strategic marketing processes to include Local Business Listing Marketing Management, Consumer Ratings & Reviews Monitoring and Management, Local Social Media Marketing, and Auditing your results through analytics and problem solving need to be included in order to be competitive and reach the local consumers.