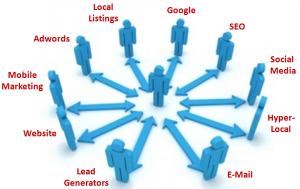 We certainly agree with the comments made in LinkedIn groups wondering why car dealerships are not getting the volume of leads they used to or the quality of leads they used to from national lead generators. Our own experience with Penske car dealerships have seen very similar results from national lead generators. Leads from the OEM websites, the dealerships own website, Google Adwords far exceed that coming from national lead generators.
We need to augment and expand on the discussions in LinkedIn automotive groups and break them up into three major groups. There is no one silver bullet to answer "why", rather there are multiple elements that make up the total answer.
1. Search Engines
Search engine maps and their listings have been evolving since 2007. By the end of 2008 they were in the first page search results. Unfortunately, the financial meltdown that caused many businesses to hold on their budgets in 2009 and most of 2010 kept them away from seeing the evolution and maturity of the Local Business Listings as a marketing tool to reach local consumers.
At the end of 2010 major changes from Google pushed local results before national results. This includes geo-tagged web pages / web sites and local business listings (aka Google Places and aka the interactive yellow pages).
An organic web marketing strategy has to focus more on local over national with websites, web pages, micro website strategies, and local business listings. Please note this is about "marketing" not "advertising"…web marketing has a shelf life of years! …web advertising has shelf life of a few seconds and only good as long as you put money into it.
Two Google issues also play into using local business listings:
A. Google Places is not about what you do on Google, but also Google validating your information on other websites, known as citations. Too many companies focus only on Google Places and can't understand why it doesn't work.
B. Amongst various data point, one of the data point Google ranks local listings on is customer ratings and reviews. It is important to actively manage these, not only for negative ones, but securing positive ones and facilitating positive re-enforcement.
2. Mobile Marketing
Mobile searches have not only been increasing in usage, but the searches are showing better quality of leads. We are seeing this in our managed Google Adwords campaigns in which mobile clicks are outperforming non-mobile clicks and are also costing less. An Google Adwords strategy that encompasses keywords, ad extensions, image ads, and also are all equally prepared for mobile, will show better results than national 3rd party lead generators.
3. Hyperlocal Advertising
Hyperlocal Advertising is the next main growing element in reaching local consumers. Ex-newspapers journalists have been opening up their own city or neighborhood websites with local news and information. Larger entities like AOL have been growing their Patch.com websites and this industry also includes websites like Examiner.com. Amongst the local journalist and these national hyperlocal sites consumers are responding very well to them and in fact have browsers opening to them as their initial home page.
Focusing on editorials and advertising (text, image or banners) becomes part of the web strategy in reaching local consumers for local stores. Particularly for national companies with stores nationwide whose business revenue is dependent upon the local consumer.
If you look at all three elements (Search Engines, Mobile Marketing and Hyperlocal Advertising) we will see that there is no one single answer as to why national 3rd party lead generators are not as effective. Perhaps had the 2008 global financial bankruptcy not happened and business continued as usual, many businesses would have realized these changes much sooner.
The ongoing evolution, maturation and technology changes/additions that takes place on the web create a very dynamic and fluid environment that is not necessarily comforting to business. Nothing is ever stagnant and one has to always adopt technologies early to take advantage of reaching consumers that have no problem adopting technology changes earlier than business. Unfortunately, business tends to take its time in making these decisions and also expect that their investment in "one thing" will continue forever. Neither which is true or good for the business.
For this reason it all comes down to ongoing education and communications focusing on the marketing processes versus just executing silvers of technology tasks. The difference between a marketing agency versus a technology company is well apparent because of the communications. Marketing agencies are focused on pushing ideas and marketing strategies with ongoing communications with clients. Technology companies tend to wait for orders from their customers, who unfortunately, many not know what they should request or what they are requesting.
Certainly your time resources are limited and Geographic Marketing Solutions for multi-location companies are provided by SmartFinds Marketing. Let the experts of over 17 years Internet marketing experience help you use local business marketing for national company stores through monthly managed marketing services, broadcast data services for mass business data distribution, and our Mobile Locations Finder mobile app.
SmartFinds Marketing
330 East Maple Road #503, Birmingham, MI 48009
Toll-Free: (866) 501-5758
Fax: (866) 501-5758
http://www.SmartFindsgeographicmarketing.com