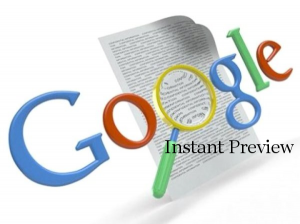 Google has been allowing for web pages to be previewed before clicking on a search result for quite some time since 2010. Equally we have seen a number of changes taking place during 2011 in Local Business Listings from Google's Places and Maps. These changes have include the removal of third party reviews, layout changes to what information is viewable and a strong focus on securing ratings and reviews.
Google Places results which provide local results before national results now received the instant preview feature too and are displayed on the first page of the search results. This is a new functionality that will further encourage and require businesses to take control of their Local Business Listings to insure local customers get the marketing information the business wishes to provide.
What is probably more important is has been enhanced with multiple layouts and provides the searcher more information than the organic results of general websites. You can hover over a Google Places listing and see everything from Maps to Videos, Photos and more in the right column. What is probably more surprising is that the ads are replaced with the preview information. The implications of the Adwords Ads being replaced with the preview information certainly has other implications that we will have to discuss separately.
The following information is provided by Google's Instant help page:
Before Google Instant, the typical searcher took more than 9 seconds to enter a search term, and we saw many examples of searches that took 30-90 seconds to type.
Using Google Instant can save 2-5 seconds per search.
If everyone uses Google Instant globally, we estimate this will save more than 3.5 billion seconds a day. That's 11 hours saved every second.
15 new technologies contribute to Google Instant functionality.
Let's take a look at the information included in the instant preview of Google Places Local Business Listing.
Map
While the general search results always show a map with all Google Places Local Business Listings, if you hover over a listing you will see only the listing you are hovering over. The map links to Google Maps where you can then obtain more details including directions.
Customer Ratings and Reviews
Recent studies have shown how 6 in 10 customers make their buying decisions based on what has been posted to the local business listings. Of course this goes well beyond Google and becomes equally important to insure satisfied customers have posted positive ratings and reviews while the business manages the process of tending to negative ratings and reviews too.
Images, Photos, Videos, Coupons, Offers, Promotions
This is where the marketing content a business provides within their Google Places Local Business Listings for their local store becomes very important. Whether it is products, services, advertisements, coupons, offers, discounts, etc. Taking the initiative to secure your local business listings by claiming them and then managing them with regularity.
Street View
Probably not as well known is the panoramic photo that is provided by Google for that businesses address. You can get a 360-degree view of the area by hovering over this panoramic photo. Some street view images have one for the interior while others only for the exterior. Eventually this will play into the integration of Google Places with Google Earth.
Web Page Preview
If Google can identify a web page for the business, the thumbnail of the business web page is displayed. This thumbnail appears to be a live snapshot and is directly linked to the web site. From a marketing perspective this the first impression a prospective customer will have with the business.
Additional Details Included
Prices, Hours of Operation, Public Transport, Reservations, Menus, Feedback to Google, Report a Problem, and links to additional third party ratings and review websites. Of course not everything here is applicable to all businesses and are displayed based on the information provided from the Google Places Business Management Console.
As you can imagine the instant preview gives user the ability to "view" without having to click and this will directly impact the number the click through rate (CTR) of any individual listing. Most likely the CTR will go down in this case.
With the ongoing changes by Google to the search results page along with the Google Places Local Business Listing, the industry continues to push hard for businesses to not only manage their local business listings, but to start focusing on store level marketing and store level reputation management (aka public relations). We can expect to see more changes and requiring businesses to add the appropriate policies and procedures to include this area as part of their web marketing strategies.
Certainly your time resources are limited and Geographic Marketing Solutions for multi-location companies are provided by SmartFinds Marketing. Let the experts of over 17 years Internet marketing experience help you use this local business marketing tool properly through monthly management marketing services and broadcast data services for mass business data distribution.
SmartFinds Marketing
330 East Maple Road #503, Birmingham, MI 48009
Toll-Free: (866) 501-5758
Fax: (866) 501-5758
http://www.SmartFindsgeographicmarketing.com