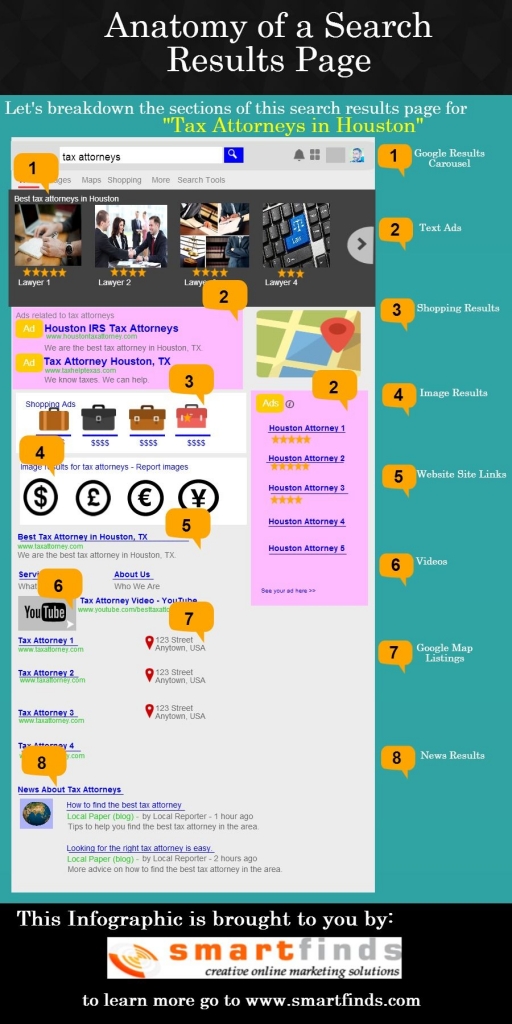 I hope the first thing you noticed about this article is the title separating "local advertising" from "local marketing". The Internet has given way to create a distinct difference between the terms "marketing" and "advertising". While traditionally, advertising has always been a subset of marketing, one of the key differences on the web is that marketing has a shelf life of years while advertising on the web tends to have a shelf life as long as your funds will last.
I don't think professionals in the industry would disagree that marketing is the better long-term solution in web marketing. The issue is not if it is a better long-term solution, rather how quickly can you show in the search results and how quickly will you get traffic. Organic marketing is generally achieved by on-website search engine optimization (SEO) and off-website outreach, such as social media marketing. The reality is that Google's Hummingbird search engine, structured data, and the Panda and Penguin algorithms are making it much more difficult for the small business. These hurdles make ranking a website organically more of a challenge. Therefore, seeing results is not a matter of days or weeks, but months.
Getting your website to show in the organic results in the search engine (aka SERP and achieved through SEO) is one of the most important web marketing strategies, but let's not forget about search engine advertising (SEA). You will notice I didn't say SEM (Search Engine Marketing), which is a widely misused term in the industry. In today's world of using the web as a revenue regenerating tool for your business, SEA (aka Pay Per Click or PPC) is one of the quickest ways to drive website traffic to generate more leads for your business.
Let's take a look at five reasons SEA needs to be added to your website marketing (SEO) and web marketing strategies off your website:
1.) You Can Target Specific Consumers by Geography & Search Terms
SEA allows you to reach a specific geography and target a market in your area. For instance, you only offer services or ship your products to specific zip codes, cities or states you can optimize your campaigns accordingly. You can also target specific consumers with keywords and weed out the non-customers with negative keywords. This can result in more qualified leads and optimize your budget that you may receive from an organic search.
2.) Dominate The First Page of Google
So you're showing up in the organic results for a specific keyword or phrase. No need to do SEA, right? False.
Although, you might be showing up in the organic results, it always helps to show up multiple times, dominating the first page of Google and your competitors to the second and third page. The more a viewer sees your brand, your company, your website on the first page of the search results the more likely they are to click it instead of your competitor's.
3.) Instant Results/Increase Your Revenue
Although organic web marketing has a shelf life of years, it can take time to start having an impact in the search results. Unfortunately, most businesses simply do not have the time to wait around for leads or sales. This is where SEA can solve your short-term revenue needs. The moment your advertising campaign goes live is the moment your ads start appearing to your viewers. This is a great way to increase your revenue, or keep it steady, while your organic web marketing presence is slowly building up.
4.) Measurable Results
One of great things SEA has to offer is that there are no gray areas; it's black and white. The results are so measurable that we can see exactly what ad or part of an ad is working or not working. With organic marketing and social media marketing it tends to take time to interpret the results while having to use multiple data points to understand the results.
5.) More Engaging
SEA is much more engaging than organic marketing on a number of levels. For example with SEA you can create an ad to take your visitors to an enticing video or offer to get into your your sales funnel. You can also place ad extensions in your ads allowing the viewer to easily call you, see your location, sign-up for your newsletter and several other possibilities.
In competitive markets and the more competitive business categories (ex: insurance, hair salons, restaurants), there can be hundreds or thousands of businesses trying to secure the same finite customer market. This certainly requires your business to show up in multiple areas of the search results. Only having your website show up as a single line in the search results is probably not going to get the attention of the search amongst all the other visuals they are shown now-a-days.
Let's quickly put the search results into perspective. Here are all the various sections of the search results:
Results Carousel (Google)
Text Ads (10)
Map Listings (up to 7)
Websites (10)
Website Site Links (up to 6)
Shopping Results (up to 8)
Images and Photos
Videos
News Results
If you consider the amount of information being presented to the searcher, relying only on one of these segments means you will get lost. The focus would need to be how to get into each of these areas. Since it takes time to build showing up in most of these search categories, SEA and SEA + Ad Extensions will help to get you noticed within 24 hours and start seeing traffic to your website.
Ad extensions increase searcher engagement with your ads and your company. This is accomplished by increasing the visibility of your text ads with the variety of ad extensions available to you. You can decide which ad extensions are appropriate for your business and also decide if you want to target desktop or mobile users. To learn more, read "Powerful Google Adwords Advertising Tools Using Ad Extensions".
Hopefully you can see the short-term capabilities of search engine advertising (SEA) and how it can augment your organic web marketing strategies, which will take longer to show results. The two have to work together for a complete multiple-channel marketing strategy.