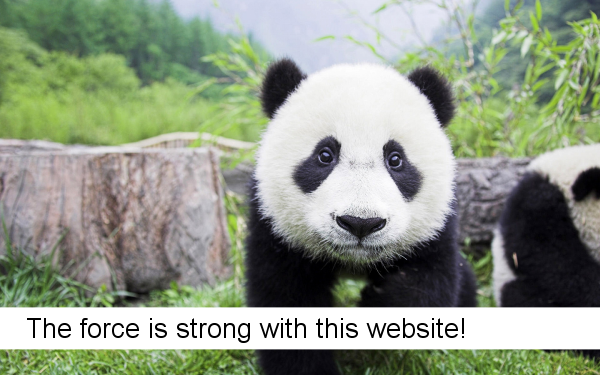 You probably didn't realize that zoo animals would affect your website, your business or revenues, right? Google has been naming its algorithms based on zoo animals and the three having the biggest impact in the past three years is a bear and two birds!
Google's algorithm changes are designed to provide quality websites while pushing down thin or low-quality websites in the search results. Google's efforts are certainly admirable as they are the most used search engine and over years the impact has been one for the better.
What is harder to deal with is that we have a small group of people causing the majority of people a lot of hardship. This is affecting business revenues and expenses alike. Your revenues are affected because your web site's ranking is affected negatively. Your expenses are affected because you have to spend money to make corrections.
Of course we could spend a lot of time fretting about these changes or we can cowboy up and push forward. Fretting about these things is an emotional response that will have not value other than to let off steam. Pressing forward to accept the changes and objectively making corrective decisions is probably a better use of your time.
It is equally important to understand that web marketing has no endpoint and change is inevitable. Trying to fight the dynamic and fluid environment of the web is not logical for your business, nor is it fruitful use of your time. Keep emotion out of it, move forward and adapt to the changing environment.
Let's take a look at each of Google's pets to better understand them, their impact and our course of action.
For purposes of this article, I am defining "low rank" as a ranking position above the numerical value of 10 and beyond.
Panda Algorithm and What Is In Your Website
This cuddly animal has a direct impact on what is going on within your website.
Google Panda changes the search results ranking algorithm and was released in February 2011. The algorithm was aimed to push "low-quality sites" or "thin sites" further away from visibility and ranking them lower. The second part of this algorithm was to present higher-quality websites above the lower quality websites.
To be more specific, the Google Panda patent states there is a ratio with a website's inbound links and search queries for the website's brand, products and services. The ratio is used to create a modification factor affecting the entire website, not just individual pages. If the page fails to meet a certain mathematical threshold, the modification factor is applied and the website would rank lower in the search engine results page.
When we talk about "thin websites" or "quality" there are a few important factors to keep in mind.
Duplicate content within your website is an important issue that is not only about meta tags, but the visible content as well. Having web pages with the same Title tag and Meta Description will negatively affect your website.
The visible content has to be of value to the visitors. Since this is a mathematical equation keyword density percentages are important as well as the web page's Readability Score. The Flesch-Kincaid and Flesch Reading Ease are two methods of determining readability scores. The more the web page can cater to the general public, the more likely it will meet a quality level based on a mathematical equation.
Fresh content that is helping to build the overall density of pages of your website is important. This is where "thin websites" that do not have enough content or for that matter websites that do not have fresh pages are negatively impacted.
If you're wondering about now how you're going to accomplish meetings these requirements, consider using Google's Webmaster Tools. Unlike Google Analytics, Google Webmaster Tools helps you show what problems Google has identified about your website.
Another consideration in this process is to secure the services of writers and or marketers who can interpret the findings and make changes to help your website's quality. A technical website developer is not necessarily the right discipline you need in this case.
As of May 2014, the Panda algorithm has evolved to Panda 4.0. As you can see this algorithm is here to stay and keeps getting updated.
Penguin Algorithm Finding Low Quality Inbound Links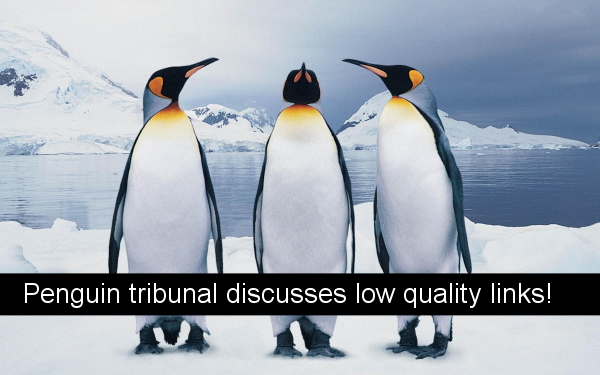 If you were thinking this is a flightless bird living in the Southern Hemisphere, especially in Antarctica, on this planet you would be partially correct. Google decided to use this cold climate bird to define the algorithm affecting inbound link quality.
Google's Penguin Algorithm was implemented in April 2012. The is aimed at websites violating Google's Webmaster Guidelines by using black-hat SEO (Search Engine Optimization) techniques. These techniques are involved to artificially increase the ranking of a web page by manipulating the number of links pointing to the page.
To avoid getting caught in the Penguin Algorithm trap, you have to know if the websites linking to you are of quality. This does mean someone has to have a good idea on how to determine the quality of websites based on the website's metric such as Google Page Rank, Alexa Traffic Rank, volume of pages indexed, and volume of links on the web. Having more quality over quantity of links will be more valuable and thus means someone actually has to research the information.
Using Google's Webmaster Tools you can find out what websites are linking to you. Once you have that information you will be able to research metrics of these websites using publicly available automation tools to provide you their Google Page Rank (it is weighted average value from 0 – 10, the higher the better) and other information pertinent to determining their value.
Once you know which websites are of low quality you have to options:
You can send that website a message and ask them to remove the link to your website.
You can use Google's Disavow Tool in Google's Webmaster Tools to ask Google to not put this website into consideration as a link to your website.
Neither option will have an effect very quickly and they are both time consuming no matter how you look at this never ending marketing process.
The Penguin Algorithm will have Version 3.0 released by the end of 2014 and it is determined to have significant impact.
Read more from this article at Web Marketing Today, "SEO: Understanding Pandas, Penguins, and Pigeons".