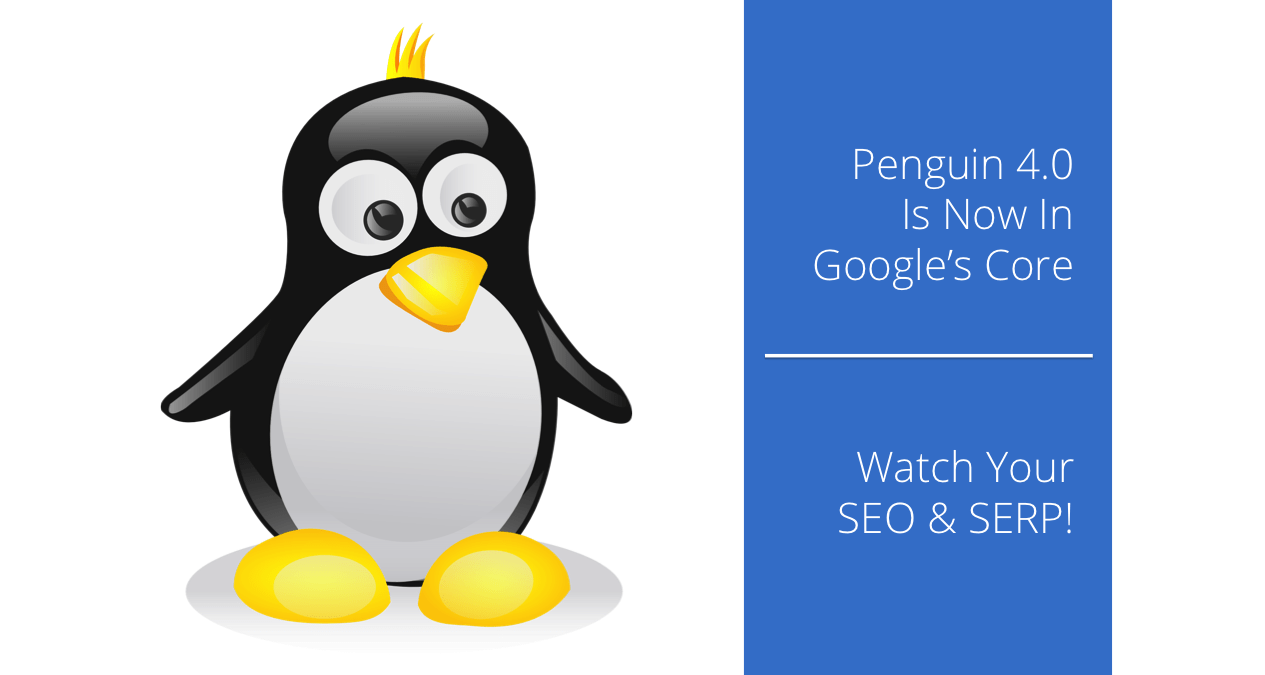 It has been two years since Google updated the Penguin algorithm. The most significant change is Penguin runs in real-time, meaning the algorithm is no longer an add-on. Penguin will make decisions at the time of a search. This, also, means the Penguin algorithm no longer will receive updates, as it is part of Google's core algorithm.
August and September months have historically been when Google makes these changes impacting the search engine ranking positions (SERP) of websites. Including Penguin into the core algorithm, means the changes will happen immediately. You'll know if you've been affected…NOW!
Understanding The Google Penguin Algorithm?
Google Penguin was a filter to run as part of Google's ranking algorithm. Penguin was introduced in April 2012 designed at decreasing the SERP of websites using spamming techniques. These methods violate Google's Webmaster Guidelines with gimmicks like manipulating the links and volume of links pointing to a web page. "Steps To A Google Friendly Site" gives good points to staying on Google's good side and staying out of black-hat SEO tactics.
Google;s Announcement Of The Penguin Algorithm 4.0
"Penguin is now part of our core algorithm" is the headline on Google's Webmaster Central Blog. Here is the most important excerpt from this announcement on Friday, September 23, 2016.
"After a period of development and testing, we are now rolling out an update to the Penguin algorithm in all languages. Here are the key changes you'll see, which were also among webmasters' top requests to us:
Penguin is now real-time. Historically, the list of sites affected by Penguin was periodically refreshed at the same time. Once a webmaster considerably improved their site and its presence on the internet, many of Google's algorithms would take this into consideration very fast, but others, like Penguin, needed to be refreshed. With this change, Penguin's data is refreshed in real time, so changes will be visible much faster, typically taking effect shortly after we recrawl and reindex a page. It also means we're not going to comment on future refreshes.
Penguin is now more granular. Penguin now devalues spam by adjusting ranking based on spam signals, rather than affecting the ranking of the whole site."
The Impact Of The Google Penguin Algorithm To Your Business Website
The Penguin algorithm would crawl the web to websites it determined to be spam. If Penguin decided your website is spam, your website would be penalized. Businesses would run into trouble once penalized. You could make your changes within 30 days, but you needed to wait for Penguin to re-crawl and re-index your website. This would mean you had to wait for months.
Google has now incorporated the Penguin algorithm into its core algorithm, there will no longer be a need for this waiting period. The impact will be seen faster since Google's crawling and indexing process is constant.
Do expect fluctuations in your website's SERP as Google starts re-crawling and re-indexing websites.
Keep Your Website's Health And Performance On The Up-And-Up
Google's algorithms rely on more than 200 data points to determine what to display in the search results. These data points include more than just word and phrases. Consider the freshness of web page, your geography and that of the searcher, the Google PageRank of your web page, the links coming to your website and much more.
You can learn more about "How to Improve Your Website's Poor Performance With Expert Tools" in my recently published article on Search Engine Journal.
Source Credits & Disclosures
LinkedIn Post Featured Image is from Pixabay with creative edits from SmartFinds Marketing.
Disclosure: Melih Oztalay and SmartFinds Marketing do not have any affiliation with the recommended products or services mentioned in this article.