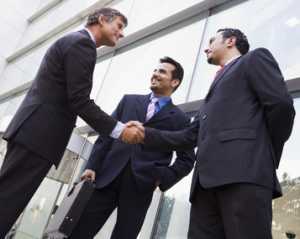 "What's the Online Buzz?" is the third and final installment of the DMCVB membership educational series focusing on business ratings and reviews by local customers
September 26, 2011 (Birmingham, MI): SmartFinds Marketing (http://www.SmartFindsmarketing.com ), an Internet Marketing pioneer for more than 20 years and leader in web marketing including geographic marketing has been invited as the guest speaker for the Detroit Metropolitan Convention and Visitors Bureau's (DMCVB, http://www.visitdetroit.com) educational series for their members. The event focuses on learning how to manage the business online reputation at the local geographic level.
"As our Geographic Marketing Solution and Services has expanded over the past years, we have had to engage in helping businesses not just monitor, but also manage their ratings and reviews being posted by their local customers in the business' local business listing," said Melih Oztalay, SmartFinds CEO. "Geographic web marketing is a fast growing industry making it easy for local customers to post their positive or negative experiences with a local business store either through a web browser or through a mobile phone. Knowing how to approach the process of managing these ratings and reviews is an important factor to insure continued business to the local store by future prospects."
The DMCVB's 2011 Membership Educational Seminar will end with "What's the Online Buzz?" as the third and final installment in the membership educational series. In the blink of an eye customers can share their opinions and experiences online, and you need to be aware of what they're saying about your business. Learn how to manage your online reputation with presenter Melih Oztalay, CEO of SmartFinds Marketing. Melih and an all-star lineup of panelists will discuss the latest ways businesses are monitoring their social brand image, attracting new customers through favorable reviews, responding to criticism, turning negatives into golden opportunities, and more!
Following the presentation a panel will convene for open discussion that includes representatives from Yelp, Motor City Casino, and WDIV.
The event is held on Thursday, September 29, 2011, from 2 – 4 p.m., at the Best Western Plus Sterling Inn at 34911 Van Dyke Avenue, Sterling Heights, MI 48312. You must be a DMCVB member to attend. You can contact Angela Gillis at the DMCVB for further information by phone at (313) 202-1973.
Geographic web marketing as a solution for multi-location businesses from SmartFinds Marketing expands not only beyond Google Places, but also encompasses other elements that include Geo Tagging, Citation Marketing, QR Code Marketing, Consumer Rating and Reviews Management along with a Mobile Locations Finder mobile application. Geographic Marketing is a way to attract local customers online through strategies that leverage a business' physical location. When a local customer searches online via mobile, web or GPS, a map appears with business listings related to the search criteria. When fully leveraged with the company's marketing content, pictures, logos, videos, events, coupons, promotions, customer reviews and more, it helps to create a micro website for the client across each of the search engines.
About SmartFinds Marketing
The most critical element of SmartFinds Marketing services is the creativity and imagination to apply the technological aspects of the digital marketplace to the marketing objectives of a particular business. Initial research provides SmartFinds the ability to develop a digital strategy that can be measured every step of the way to insure business growth and revenue generation. Some of SmartFinds' clients have included ComForcare Home Care, Delphi, Flagstar Bank, Guardian Industries, Soave Enterprises, McCann Erickson, Penske Automotive Group, Wendy's, Ziebart and others. You can learn more about SmartFinds at http://www.SmartFindsmarketing.com .
About The Detroit Metropolitan Convention and Visitor's Bureau
The Detroit Metro Convention & Visitors Bureau (DMCVB) is the only organization that promotes metro Detroit regionally, nationally and internationally as a convention, business meeting and tourism destination. To achieve this goal of soliciting and servicing the area's second-largest industry, the DMCVB works with the Detroit and Windsor area business community, civic organizations and local government offices in Wayne, Oakland and Macomb counties. You can learn more about the DMCVB at http://www.visitdetroit.com .
New Release Contact
Melih Oztalay, CEO
SmartFinds Marketing
Direct: (248) 568.2241
melih@SmartFindsmarketing.com
330 East Maple Road #503, Birmingham, MI 48009
Toll-Free: (866) 501-5758
http://www.SmartFindsgeographicmarketing.com