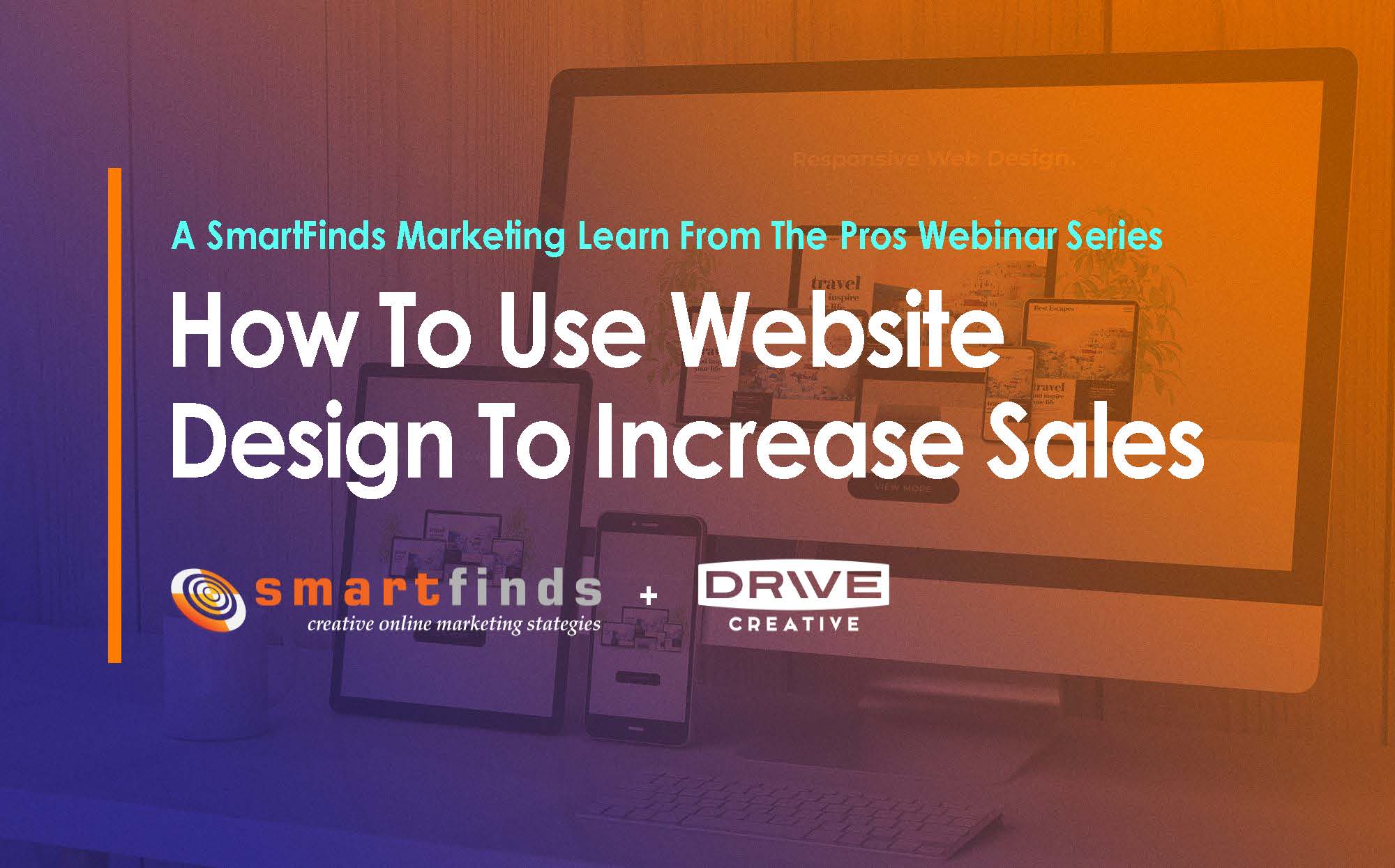 Welcome to the SmartFinds "Learn from the Pros" Webinar Series.
Join this free Live Website Design and Creative Webinar to increase your sales on Wednesday, April 29, 2020, at 2:00 PM EST
The webinar will be presented by SmartFinds Marketing and Drive Creative Agency.
Do you understand how important creative design impacts leads and sales from your website?
WEBSITE DESIGN QUESTIONS TO ASK YOURSELF
Are you getting the sales from the volume of people visiting your website?
Do you understand color theories, font usage, page space usage, or how to use dark mode design?
Do you understand what is causing your website to not generate more leads and sales?
Do your calls to actions have the necessary creative design to generate interest?
Do you understand how Conversion Rate Optimization can help you increase your leads and sales?
WEBSITE DESIGN WEBINAR WILL DISCUSS
Mobile First design theory
Understanding color theory
User triggered animations
Understanding your calls to actions
Understanding how to measure your conversation rate
How to use conversion rate optimization to improve your lead and sales results
WEBSITE DESIGN WEBINAR WILL COVER:
How creative website design impacts your lead and sales results
The concepts of creative design theories to improve your lead and sales results
The process of analyzing your results to make improvements for better results
How UX, UI impact CTA and driving website visitors to your intended results
YOU'LL GET:
A copy of the webinar recording (MP4) and the webinar presentation (PDF) will be provided
to all registrants and attendees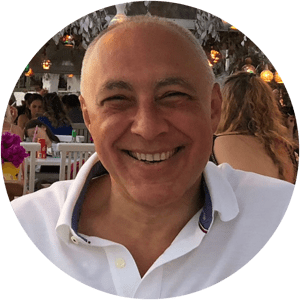 Presented by:
Melih Oztalay, CEO, SmartFinds Marketing
Melih ("may-lee") is the CEO of SmartFinds Marketing. He has 25 years of experience in developing successful, efficient and strategic digital marketing and advertising solutions for businesses. Working through an entrepreneurial framework, he has given perspective on marketing in business development, sales, execution, and management.
Learn more and connect with Mr. Oztalay
Presented by:
Dan Dulka, Co-Founder/Puppet Master – Drive Creative Agency
Dan has more than 15 years of agency experience and loves helping clients and the team get great work done, period. He started Drive Creative because he knew there was a better and more effective way to tell the story of a brand and help them succeed. Dan's obsession with process, workflows, and analysis drives his passion for client delivery. When Dan isn't solving how something can be done better/stronger/faster, you can find him taking his kids to MSU games (Go Green!), practicing sarcasm or losing at Fantasy Football. He also hates coffee (not kidding).
Learn more and connect with Dan
Presented by:
Corey Barkach, Co-Founder/Dragon Slayer – Drive Creative Agency
Corey is the young blood at Drive. He has an impressive amount of applicable real life business and marketing experience under his belt. Corey is an idea guy, responsible for all client relationships and communications at the agency. If you ever want to speak with someone at Drive Creative, Corey is your guy… he can talk for days, just ask him. In his free time, you can find Corey hanging out with his wife Amanda and their two beagles Gatsby and Penny.
Learn more and connect with Corey
Previous SmartFinds Learn From The Pros Webinar Series
The previous webinar presented by SmartFinds Marketing and Trade Press Services was on February 26, 2020, titled "How to Increase Sales with the Power of Content Marketing". The webinar demonstrated how brands can use content marketing to convert prospects into customers. Content marketing has become a proven driver for sales increases and is a key strategy for organically bringing in website visitors from search engines. Content Marketing increases quality website visitors, reduces your bounce rate and requires strategic distribution.
Supporting discussions on this topic included "How To Use Content Marketing Strategy To Your Advantage" and webinar content downloads can be found at "Content Marketing Webinar Material Downloads".