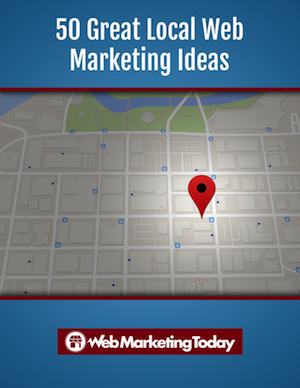 Web Marketing Today was founded in 1995 by Dr. Ralph F. Wilson. Since 2012 Confluence Publishers acquired the web publication and also owns Practical E-Commerce.
The mission of Web Marketing Today is to publish down-to-earth articles, tutorials, webinars, and podcasts to help smaller, local businesses succeed online. Our authors are Internet marketing experts.
Small businesses can learn about Search Engines, Social Media, Customer Conversions, Web Design, and Website Platforms in an easy to understand manner at Web Marketing Today.
Local Web Marketing Ideas
The free e-book "50 Great Local Web Marketing Ideas" is a 23-page downloadable PDF document. The e-book is designed for local businesses, those that depend on the local economy, to provide an understanding of local Internet marketing.
Web Marketing Today asked 50 seasoned Internet marketers for a single idea that can help a local business reach local consumers via the Internet.
You can receive the free e-book by subscribing to Web Marketing Today's free educational newsletters by visiting their subscription page.