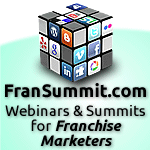 2012 Series Of Virtual Summits, Workshop and Webinars scheduled starting March 26, 2012 through March 29, 2012 exclusively designed for the franchising industry
March 16, 2012 (Birmingham, MI): Melih Oztalay, CEO of SmartFinds Marketing is guest speaker at the first Franchisee Sales and Marketing Summit (FranSummit) started by FranSummit founders, Paul Segreto, President and CEO of franchisEssentials, and Jeremy LaDuque, President and CEO of Elements Local, announced that on March 26, 2012. FranSummit will be the first of many major virtual events, exclusively designed for the franchising industry, to take place throughout the year.
SmartFinds Marketing (http://www.SmartFindsmarketing.com ), an Internet Marketing pioneer for more than 20 years and leader in web marketing including Geographic Web Marketing and Local Web Marketing for franchisees, will present "Embracing Technology and Adapting to Change" by Melih Oztalay, CEO of SmartFinds Marketing.
"As a web marketing agency working in an ever changing environment of web technologies and requirements, our company has to adapt to the industry. As algorithms change, new technologies are introduced, previous technologies updated we have to step up to be sure we can support our clients before they are aware of these changes," said Melih Oztalay, SmartFinds CEO. "The presentation at FranSummit will discuss expecting and accepting change in web marketing along with sample industry changes that are important to understand for 2012."
FranSummit will be divided into four, one hour-long sessions spanning the length of four days, from March 26 until March 29. Each session will cover a different topic, with Paul Segreto facilitating and presenting alongside an expert guest on the subject of focus. Additionally, Jeremy LaDuque will present opening comments 15 minutes prior to each daily session and along with Paul Segreto, will also present a detailed summary of the entire Franchisee Sales and Marketing Summit at the conclusion of the last session.
"It is crucial to cover a broad spectrum of information while remaining detailed, precise and succinct within a brief amount of time. The guest speakers who we hand-picked are revered experts in their fields and will contribute greatly in achieving these goals," said LaDuque. "We designed the whole event to have a natural flow, with each successive lesson building upon the one delivered the previous day. With this layout, and Paul and I actively participating, recapping and summarizing the main points, we are confident that our guests will retain a great amount of information in a concise, manageable fashion."
The four sessions of Franchisee Sales and Marketing Summit will occur in the following chronological order, starting from March 26 through March 29:
Monday, March 26 – Consumer Sales and Customer Experience with Mindy Golde, Director of Sales at Listen360 (formerly Systino)
Tuesday, March 27 – Social Media and Personal Branding with Debra Vilchis, Chief Operating Officer of Fishman Public Relations
Wednesday, March 28 – Local Marketing and SEO with Jeremy LaDuque, CEO of ElementsLocal and co-founder of FranSummit
Thursday, March 29 – Embracing Technology and Adapting to Change with Melih Oztalay, CEO of SmartFinds Marketing
The Webinar Series are held daily, from: Mar 26, 2012 to Mar 29, 2012 11:45 AM – 1:00 PM CDT.
All sessions will be recorded and available for download after the event. Both franchisors and franchisees are encouraged to attend. In addition, the event may be customized and branded for any franchise system to serve as instructional materials for later viewing.
Registration to Franchisee Sales and Marketing Summit is currently open with a base price of $199 and a $50, early bird discount available until March 19. Group discounts are also available with a fee of $99 for 10-49 attendees, $79 for 50-99 and $59 for groups with 100 or more participants.
For more information about FranSummit and to register for Franchisee Sales and Marketing Summit, visit http://www.fransummit.com
About SmartFinds Marketing
The most critical element of SmartFinds Marketing services is the creativity and imagination to apply the technological aspects of the digital marketplace to the marketing objectives of a particular business. Initial research provides SmartFinds the ability to develop a digital strategy that can be measured every step of the way to insure business growth and revenue generation. Some of SmartFinds' clients have included ComForcare Home Care, Delphi, Flagstar Bank, Guardian Industries, McCann Erickson, Penske Automotive Group, Soave Enterprises, Wendy's, Ziebart and others. You can learn more about SmartFinds at http://www.SmartFindsmarketing.com and their Geographic Marketing website at http://www.SmartFindsgeographicmarketing.com
New Release Contact:
Melih Oztalay, CEO
SmartFinds Marketing
Toll-Free: (866) 501-5758
Direct: (248) 568.2241
melih@SmartFindsmarketing.com
LinkedIn: http://www.linkedin.com/in/SmartFinds
330 East Maple Road #503, Birmingham, MI 48009