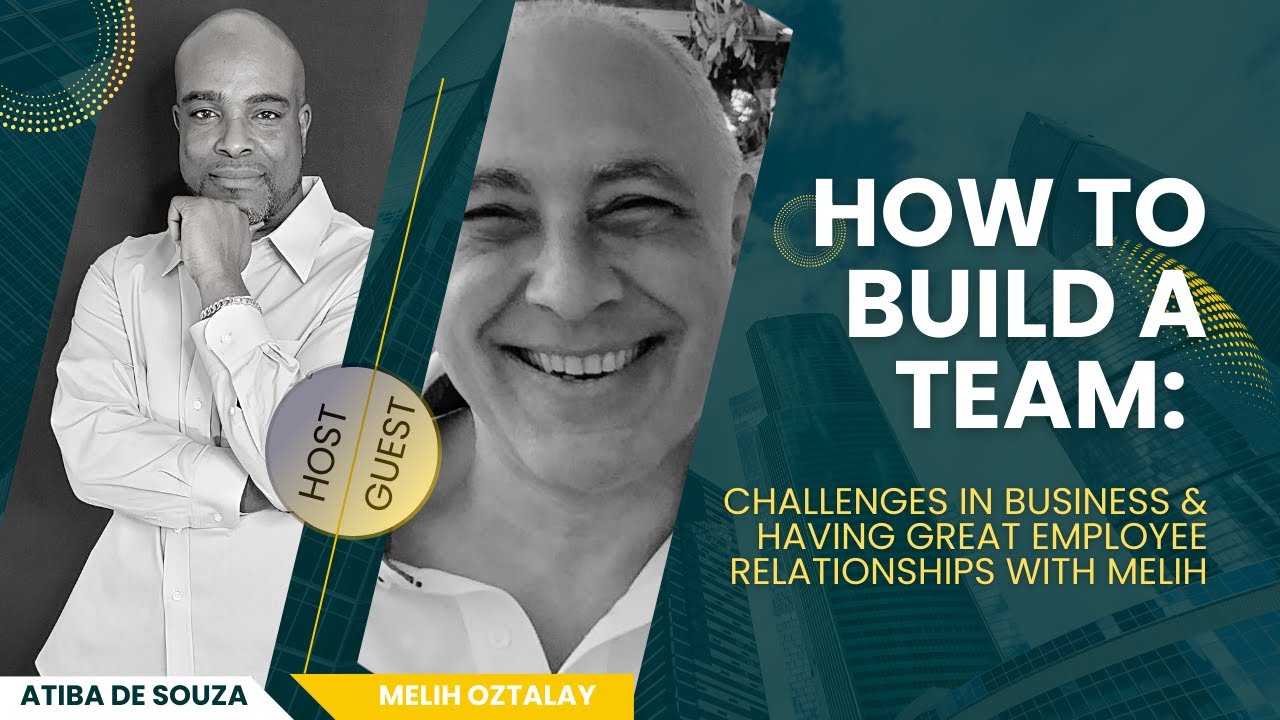 Business team building requires managing relationships within the business team and should not be difficult. After all, this is a matter of human relationships. How tough can that be? Using 35 years of knowledge and experience certainly helps to improve business team building over time.
As a business owner, no matter what type of business you may own, you have to build a business team where you can work together towards a common vision. You need a team that is committed and motivated. A team that can take on the tasks to accomplish the vision.
Building a successful business team is about more than finding people with professional skills, talents, and capabilities. The team can help you lay the groundwork for a highly productive team that can communicate, cooperate and innovate in an atmosphere of mutual trust and respect.
In this video discussion, Melih Oztalay, joins Atiba de Souza's show "Build Your Team".
Join the conversation on LinkedIn "Melih Oztalay Discusses Business Team Relationships".
Building A Business Team: The Elements
Building a team means developing human-to-human relationships. This takes time. It takes patience. The process of building the team and the relationships need to be based on sincerity.
Build a plan before you build a team: You need a clear and measurable goal for what you want to accomplish.
Respect goes a long way: Everyone wants to be respected and bring their best ideas to be part of the team.
The team is the priority: A team is stronger when everybody delivers results together based on their individual activities.
Communication is important: Communicating amongst the team is best achieved with positive reinforcement, while respectfully bringing problems to everyone's attention.
Melih and Atiba's Business Team Building Challenges Interview
Atiba and Melih discuss building a team, the challenges of building a team, building good team relationships, finding mentors, and more. You'll learn how to navigate these challenges and come out on top.
As business owners, we have to weather storms. There's no doubt about it. And my guest today, Melih Oztalay, he has been in business for over 30 years and has weathered all kinds of storms and through it all he has built solid teams that have helped his business grow through each and every one of those storms.
Today, I am with Melih Oztalay of Smartfinds Marketing. As always, we are going to be talking about Building Your Team, brought to you by Client Attraction Pros. I'm excited about this conversation because Melih and I were talking before, and we share so much background and thinking and thought on team and business that I know this conversation's gonna be really rich for you.
First off, tell us about SmartFinds Marketing, who you are, and who you guys serve.
We're a marketing agency out of the Detroit Metro area. The company has been around for 35 years. It's been a long ride. We were in traditional media originally. Then I started the internet group in 1994.
To make a long story short, during the 1990s, we had a lot of fun. It was the wild, wild west of the internet. We had three different groups.
We had our website development and website marketing. There was no web marketing, it was just website marketing.
At the same time, we had our ISP team and we had a traditional media team. Each of our three teams operated under a different brand name under the primary corporate umbrella.
….please listen to the rest of the interview on Soundcloud or on YouTube to better understand how building business teams over a 35-year period leads to the success of your business vision and goals.
Melih Oztalay Talks with Atiba de Souza on YouTube
Listen to Melih Oztalay Talking with Atiba de Souza on SoundCloud
About Client Attraction Pros
Every customer of yours has several Moments of Truth with your industry and brand BEFORE they decide to contact you. Those Moments of Truth decide whether they will use your brand or not. What if you could master those Moments? Our goal is to help you discover those moments and position content that will deliver victory for you.
With another 25 years of experience, Client Attraction Pros specializes in giving your audience a TON of value and actionable tips in minutes. This includes The Power of Video SEO and How it Helps You Attract the Right Clients, How Brands Dominate Social Media Without Creating More Content, How to Sexify Content That Flopped, and The Future of SEO.
About SmartFinds Marketing
As a digital marketing agency, SmartFinds Marketing focuses on marketing processes and strategic activities that are based on using multiple digital marketing channels. This sophisticated approach differentiates SmartFinds Marketing from companies whose focus is specifically on executing technology tasks as a service.
SmartFinds Marketing provides innovative, personalized digital marketing strategies and solutions. With over 30 years of experience in web and digital technologies, advertising, and marketing, SmartFinds Marketing strives to help customers navigate the digital marketing and advertising world through education, consultation, and results.