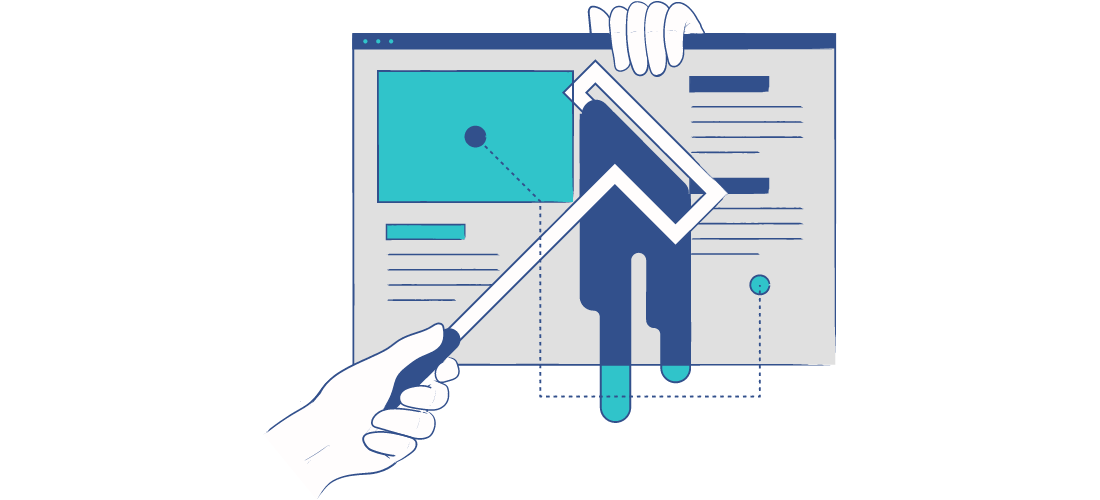 Summary:
The user interface (UI) and user experience (UX) are important factors in website conversion
Calls to Action within a web page help point our website visitors in the right direction
Remove distractions and keep options to a minimum
Analyze, Interpret Results with A | B tests on your target web pages
A conversion on your website is an action taken by your website visitor in response to one or many calls to action (CTA).
A website conversion strategy combined with smart website design are a powerful combination for any business. Increasing leads and sales from your business's website is the primary objective. It is important to understand that achieving this goal requires three types of disciplines. It is optimal to combine a marketer, a website conversion practitioner, and a creative designer that understand user experience (UX) and the user interface (UI):
The marketer understands the strategy, options, and resources to execute various solutions.
The website conversion practitioner understands metrics, reports, analytics, analysis, and how to interpret the results from multiple data points.
The designer will be able to take direction from the marketer and the website conversion practitioner to develop the visuals and the layout.
It takes all three of these disciplines to continually improve the website's conversion. This will allow you to reach the lead and sales goals of your website.
Website Design Will Increase Lead and Sales Conversions
The user interface (UI) and user experience (UX) are important factors in your website design and design optimization. UI encompasses the creative design, visuals, layout and functional elements presented to the website visitor. UX provides an easy and enjoyable experience via how a given user interacts with the web pages. Website design optimization is a continual process. This is a concept many businesses should factor in, especially in terms of planning a budget for website maintenance.
When we focus our attention on UX and UI, we need to focus on four key points:
Be clear about what you want the website visitor to do. The graphics, images, colors, fonts, text copy size, and other visuals help to direct the website visitor's attention.
Use the body of the page to give direction. If the visitor is looking through the navigation, they can get lost. Instead, show them a direct path.
Remove distractions. Any visual not related to the call to action that meets the objective should be removed.
Keep the number of options to a minimum. The "More Isn't Always Better" study makes it very clear why it's important to follow this rule.
Increase Website Conversion to Generate Leads and Sales
A conversion on your website is an action taken by your website visitor in response to one or many calls to action (CTA).
A CTA is a directive pointing your website visitors in the right direction that meets your website's leads and sales goals.
The CTA objectives can be multiple possibilities. For example, to become a lead you may ask people to send you an email, complete a form, or make a phone call. For your website to convert a visitor a sale this transaction can be a purchase order or, using e-commerce, a sale of products or services from your website.
Activities and processes that increase website conversions include:
Measuring multiple data points
This includes and not limited to Website Analytics, Web Server Logs, Form Completions, Bounce Rate and more.
Analysis and Interpretation
Reports are great to review. Doing analysis is wonderful. It all comes down to how you interpret the results from multiple sources to find trends, patterns that help you come to different conclusions.
Changing Your Web Pages and Testing
Making changes will be an easier step between these two. Being patient to see the results of your test can be harder. Allow enough time to pass so you gather enough data. That is the only way to confirm if the changes have worked or not.
Website Optimization Never Ends
There are various website optimizations your business should anticipate and account for. These optimizations are an on-going management process:
Search Engine Optimization (SEO) helps to generate more traffic to your website.
Website Design Optimization requires a creative person who understands UX and UI.
Website conversion strategies use analysis and interpretation to develop a plan to improve the website's ability to generate more leads and sales from the existing website traffic.
Use all three optimization methods, their process, and keep them going to increase your revenue.
Ready to get to work?
Fill out the form below to start your customized website conversion program today.