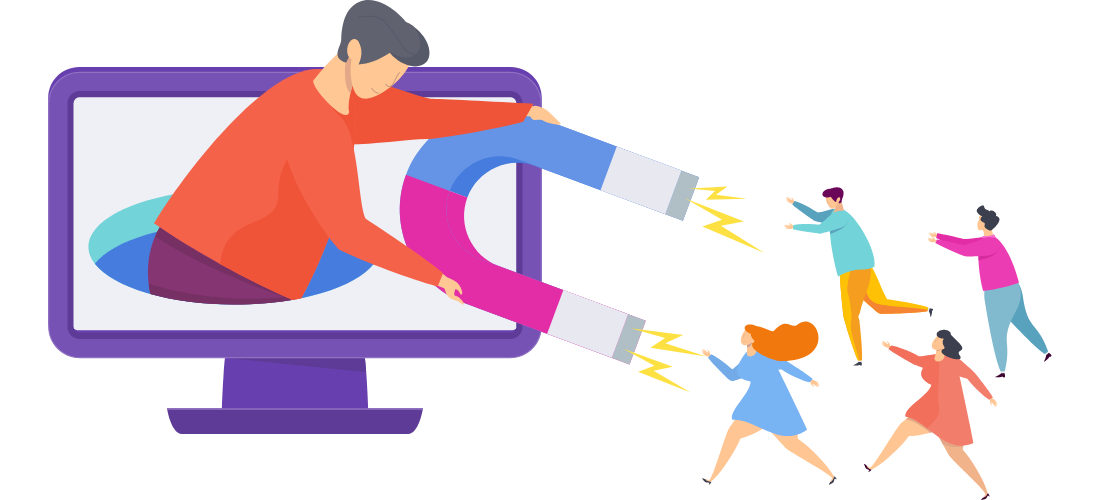 Summary:
Your competitors are converting their website visitors. How effective is your website?
Do you know how many website visitors you get each month? How many of them contact you?
Using this website conversion tactic on your target lead generation web pages is a key part of the marketing process.
Marketing optimization and technical optimization are important factors of website conversion.
Let's face it. Competition has been continually on the rise and at a fast pace.
Converting website visitors to leads has increasingly become a problem for many businesses. You're spending a lot of energy on search engine optimization (SEO), website marketability and other inbound marketing strategies in order to drive more traffic to your website. Consider optimizing your website's content for increased conversion!
Is it a matter of driving more traffic or a matter of converting the organic traffic your website is already receiving? Trying to gain more traffic is far more costly than working to convert more of your existing traffic.
Using the results in Google Analytics and Google Search Console it is possible to improve website conversion. It is not a matter of reporting or analysis, but rather an interpretation of the multiple data points.
We start with some basic questions.
How much traffic are you getting to the website?
How much of this traffic is free, paid or from referral websites?
What is your bounce rate for the website vs. from individual sources?
What does the results look like for our desired call to action?
What are the leads or sales for the desired action?
This process is different for Business-To-Consumer (B2C) vs. Business-To-Business (B2B). However, the specific task is actually the same.
Increase Website Conversion via Technical Optimization
We're not going to go into a lot of details about the technical infrastructure of your website's optimization. There are quite a number of considerations including your website's speed.
People will stay on your site longer and be more willing to search around for what they need when they don't feel like they're wasting time waiting for pages to load. This and other important research from Unbounce's "Slow Loads Sabotage Your Conversions" research from January 2019.
For this portion of optimization we use tools such as:
Increase Website Conversion via Website Content Optimization
Now let's shift our focus to website conversion based on website design and content.
In the simplest form, a conversion on your website is an action taken by your visitor in response to one or many calls to action (CTA). A CTA is a directive giving your website visitors the necessary direction to point them in the right direction that meets your website's objective.
The objectives can range from becoming a lead (e.g. email, completing a form, making a phone call) to making a transaction (e.g. purchasing a product).
It is important to note, we are not talking about search engine optimization (SEO). The visitor is already on your website. You don't need to worry about SEO at this point. We're now talking about what visitors do within your website.
Some primary segments of this optimization include:
Measuring multiple data points
This includes and not limited to Website Analytics, Web Server Logs, Form Completions, Bounce Rate and more.
Analysis and Interpretation
Reports are great. Doing analysis is wonderful. It all comes down to how you interpret the results from multiple sources to find trends, patterns that help you come to different conclusions.
Changes and Testing
Making changes may come easy. Being patient to see the results of your test can be harder. You need enough data in order to make a concrete decision as to whether the changes have worked or not.
Increases Conversion via Website Design Optimization
The user experience (UX) and user interface (UI) are important factors in your website design optimization. UX helps to generate an enjoyable experience through the way a user interacts with the web page. UI is the way a web page is designed and laid out to the website visitor.
Four key points about UX and UI that are key in increasing website conversion:
Be clear about what you want the website visitor to do.
The graphics, images, photos, colors, text copy size, and other visuals help to direct the website visitor's attention.
Use the body of the page to give direction. If the visitor is looking through the navigation they can get lost. Don't give them that option.
Remove distractions. Any visual not related to the call to action that meets the objective needs to be removed.
Keep the number of options to a minimum. The "More Isn't Always Better" study makes it very clear why it's important to follow this rule.
Patience Will Cost You Less Money
Converting more visitors to leads can be challenging but the process to increase your conversion rate is not nearly as difficult or costly as increasing traffic to your website in the first place. This isn't a matter of taking months, but rather weeks. Test, test and test new ideas and options by using the tools that you have available and make the best-educated decision. If one thing doesn't work, that is ok. Don't get frustrated. Try again. You will find small results heading in the right direction will cost you less than trying to bring more traffic to the website.
Ready to get to work?
Fill out the form below to start your customized CRO program today.