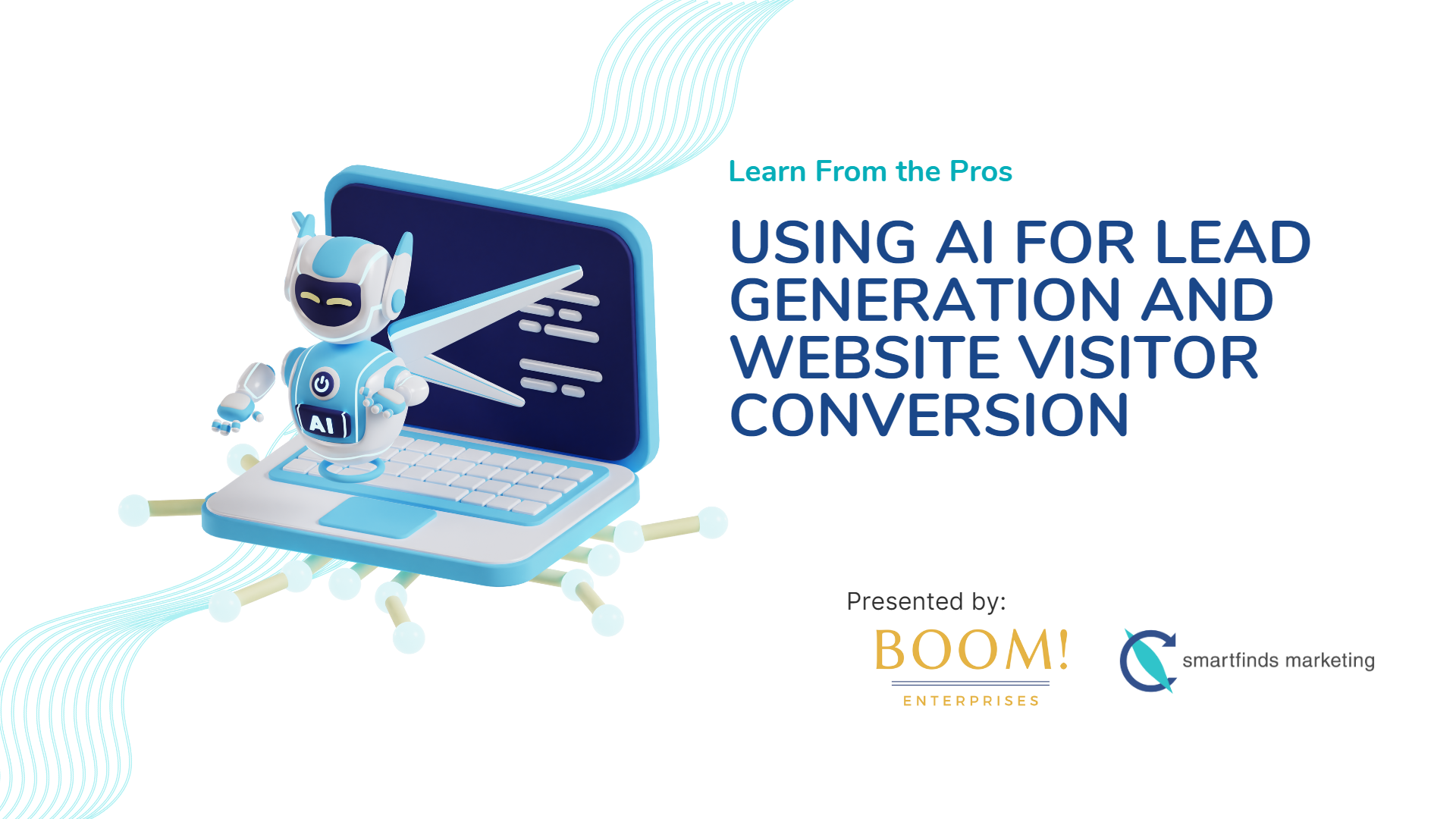 SmartFinds Marketing and Boom! Enterprises Present a Virtual Event on Leveraging AI to Maximize Business Growth
Birmingham, Michigan – June 13, 2023 – SmartFinds Marketing, a leading digital marketing agency, is pleased to announce an upcoming webinar titled "Using AI for Lead Generation and Website Visitor Conversion." This informative virtual event will take place on Wednesday, June 21, 2023 at 12 PM EST bringing together knowledgeable and experience industry experts to explore the powerful applications of artificial intelligence in boosting lead generation and enhancing website visitor conversion rates.
As businesses increasingly rely on digital platforms for growth, the ability to generate high-quality leads and convert website visitors into loyal customers has become paramount. SmartFinds Marketing and Boom! Enterprises recognize the significance of leveraging cutting-edge technologies, particularly artificial intelligence, to optimize marketing efforts and drive measurable results. With the joint effort of both companies, they have curated a webinar that will delve into the practical applications of AI in lead generation and website visitor conversion.
The webinar will feature valuable insights and strategies for leveraging AI effectively. Participants will gain a deep understanding of how AI can transform their marketing campaigns and deliver tangible business outcomes. From identifying potential leads to personalizing website experiences, the speakers will cover various aspects of AI implementation and its impact on generating qualified leads and increasing website conversion rates.
During the webinar, attendees will have the opportunity to learn about the latest AI tools and technologies, explore case studies showcasing successful AI implementations, and engage in interactive Q&A sessions with the experts. Whether participants are seasoned marketers seeking to enhance their existing strategies or business owners aiming to leverage AI for the first time, this webinar promises to provide actionable knowledge and practical tips for driving business growth.
"Our goal with this virtual event is to empower businesses with the knowledge and tools they need to leverage AI effectively for lead generation and website visitor conversion," said SmartFinds Marketing's CEO, Melih Oztalay. "We want to showcase how AI can be a game-changer in today's digital landscape, helping businesses identify high-quality leads, engage visitors, and ultimately convert them into paying customers. This webinar will be a valuable resource for anyone looking to maximize their marketing efforts using the power of AI."
Samuel Duffy, Founder of Boom! Enterprises shared his excitement for the event, stating, "I am thrilled to be part of this webinar and have the opportunity to share insights on leveraging AI for lead generation through social media and email marketing. AI has revolutionized the marketing landscape, and businesses that embrace it stand to gain a significant competitive advantage. This webinar will provide practical strategies and actionable tips to unlock the full potential of AI in driving business growth."
Registration for the "Using AI for Lead Generation and Website Visitor Conversion" webinar is now open. Interested participants can visit the webinar registration page to secure their spot and gain access to this exclusive event. The webinar is free to attend and will be conducted online, allowing participants to join from the comfort of their own homes or offices.
For more information about the webinar, including the agenda and speaker lineup, please visit the official event page.
About SmartFinds Marketing
SmartFinds Marketing is a full-service digital marketing agency headquartered in Birmingham, Michigan. With over 25 years of experience, the agency specializes in developing comprehensive strategies that maximize client growth and achieve marketing objectives. Their team of experts in creative, marketing, technical, and content development provide a wide range of services, including website development, conversion rate optimization, search engine optimization, social media marketing, email marketing, and AI-powered marketing solutions.
About Boom! Enterprises
Boom! Enterprises is a leading provider of AI-powered marketing solutions, helping businesses unlock their growth potential in the digital landscape. With a mission to revolutionize marketing through the power of artificial intelligence, Boom! Enterprises empowers companies to enhance their marketing strategies, streamline operations, and achieve remarkable results.  Boom! Enterprises leverages advanced algorithms and machine learning capabilities to optimize marketing campaigns, generate high-quality leads by harnessing the vast potential of AI.